Illustration Styles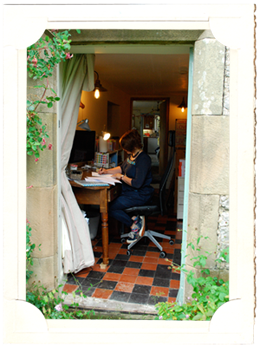 I am privileged to have been working as a commissioned illustrator for 20 years. In that time my style has developed and there are clear differences in many of my titles. The foundation is watercolour with pencil line – I also use acrylic, oil pastel, photographs and many fine papers starting with Korean hanji and more recently, patterned papers from book binding specialists like Shepherds Falkiners and Paperchase.
Although I do have a preferred way of working I am happy to discuss the style that will best suit your brief. Please have a good look at my gallery and my books. It's all there. We can push and pull the techniques to create the look you require.
Please contact me if you wish to discuss my illustrations.
Digital Files
All artwork is now supplied as digital files. Please specify your requirements from the outset.
Agents
Agents cover various aspects of my working life as an illustrator and author. Please contact me so I can point you in the right direction.
New titles
Please view my current unpublished manuscripts here.
Creative Direction
Creative Director for Pupfish Books and Music 2001–009
I have project managed every aspect of a book's life from concept to completion. This has included commissioning authors and illustrators – briefing designers and liaising with print professionals for the best possible finish.
All the books featured on this website are creatively directed by me. Please view the Pupfish page to browse these titles.
Please contact me if you wish to discuss delivery of a book project from start to finish.
If you are interested, you may also like to check out the Pupfish Story.
Pupfish Books Available for Publication
If you are looking for print-ready titles to add to your booklist, global rights are available for many of our Pupfish titles. Please view this list here.
Social Media
As you will see from my website I am embracing the modern age and using social media to raise awareness of my work. I believe I am able to bring added value to any book we do together and contribute to the life of our readers beyond the pages of a title alone.
You will find me on Facebook, Pinterest, LinkedIn and Twitter.