Pupfish was birthed out of a heart for mission
In 2000, my husband Jon and I were hungry to know the will of God for our lives. We had recently been asked to be ambassadors for an amazing initiative birthed in our city of Manchester, called the 'Eden' project. Love was being poured into the most needy areas and we were excited about the possibility of being a part of it.
We knew it was time to get serious about what God was calling us to do. But the more we prayed about 'Eden, Manchester,' the less he seemed to say. Instead, he began to talk to us about something else that mattered to him. Something entirely unexpected.
I had been busy as an illustrator since leaving art college. The majority of my work recently being for Lion Publishing and the Bob Hartman's 'Storyteller' series. I knew my creative gift belonged to God – because he had asked for it – but had no idea what that meant. As our prayers developed I began to feel like a 'reserve soldier' being called up for service. God was growing in me a passion to create books for children full of his word AND spirit. It was so intense that I needed a lot of grace to carry it.
Jon was a Chartered Civil Engineer. At the same time, God began to speak to him about being a called to work on a specific task, similar to Huram-Abi, the biblical artisan (see 1 Chronicles 2 v 13), who was contracted to use his skills constructing Solomon's temple.
Setting up a publishing house would require some intense obstacle moving and ground preparation. Jon, the project engineer was on the job! The dreaming was left to me – and I was in full flight! We had no idea what we were doing and leaned entirely on the words spoken by David about his son Solomon, in 1 Chronicles 22 v 5…'my son is young and inexperienced, and the house to be built for the Lord should be of great magnificence and fame and splendour in the sight of all the nations.' We were confident God would take care of everything – we had to be – we had nothing else.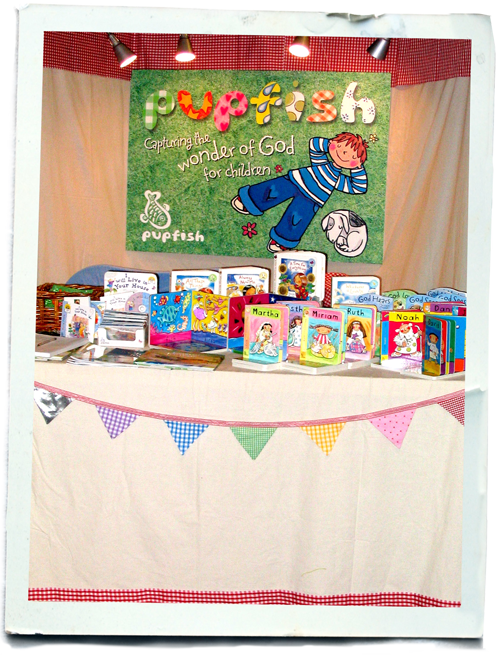 We named our fledgling book publishing business 'Pupfish,' after a little fish we met in Death Valley, Nevada – a plucky fellow who existed under terrific pressure in the one of the worlds most hostile environments. We had no idea how prophetic this name would be!
What did a Pupfish book look like? Well, it was always inspired by what we felt God was highlighting to us at the time. Led by the Spirit's prompting rather than what seemed like a good idea or what had been explored before. Some of the earlier titles were the most dynamic in this respect. They never borrowed from existing styles currently in the market place and risked being wrong rather than leaning on tried and tested method. They trusted children with the guts of the gospel message without leaving anything out and believing they too could have dynamic encounters with God, ideally on a daily basis. They were fun, fresh and hopefully at times, quirky and unexpected.
Our open door to make these books was a timely invitation from Word UK (now Authentic Media) to create a children's book list for them. An almost unbelievably perfect opportunity. Having thought this was the obvious way forward, we were entirely stumped when they changed their minds because it was too expensive. They simply couldn't get the unit price right if publishing the limited number of books they required for the UK market.
After a few months of stunned inactivity we remembered that God answers prayer and decided to ask him for help.
God spoke so clearly it took our breath away. We were to take our books to the Frankfurt Book Fair and engage with the global book trade. If we could sell each book idea to lots of different countries, which they would then translate, it would make creating a full colour picture book more affordable, as the unit price for each would be greatly reduced due to a larger print run. This is called co-editioning and no serious children's book publisher could survive without it.
We packed ourselves and our book samples into our car, said goodbye to our two little girls (left in the care of nanny) and drove all the way to Germany. An 8 day trip away from home.
For two beginners this event was huge and awe-inspiring. The first morning we drove to the event we felt sick! But quickly enough our 2x2m booth felt like home and wonderfully,
people came to find us. 'Lion Publishing' already had a thriving co-editoning business and being one of their established illustrators in the global market significantly opened doors for us. An agent called Bob Clark, had also laid a good foundation for sales through his expert and friendly marketing. Thank you, Bob! Our first title, 'A Christmas Journey' was soon sold to Sweden, Denmark, Germany and Italy. A great start!
And so began our journey. The Frankfurt Book Fair was to become the most significant date in our diary for many years. We met many wonderful people from across the world. Believers in all shapes and sizes, in and out of habits, cassocks, denominations and expressions of the Christian faith. We loved them all and grew deeply fond of our time with them over the four days of the fair. I can honestly say I have never felt as alive and at home anywhere else in the world as I did in the halls of the Book Fair.
In the following years from 2002 and 2007 we went on to sell nearly half a million units of our books to America, Canada, the Netherlands, Germany, Finland, Denmark, Sweden, Malta, Italy, Portugal, Greece, France, Poland, Korea, South Africa, Norway, Australia and NewZealand. Each of these territories changing the black text plate for their own language whilst keeping the colour plates the same.
We ventured beyond titles written by myself and began working with other illustrators and authors which was tremendous fun and enabled us to experiment with other styles of book.
Pupfish was gaining a good reputation and our books were establishing themselves well. But our desire was to publish in our home nation, Great Britain, with a recognisable list of books that would 'capture the wonder of God for children' and inspire parents and their families to love and worship God. This meant not just selling the ideas abroad but buying stock to sell into the books shops across the nation.
This was a huge risk. We believed God was with us and felt confident about the future. But looking back and with the benefit of hindsight – we also believe that this was a decision we should have approached with much more care. Like Moses says in Exodus 3:15 – "if your presence doesn't take the lead here, call this trip off right now…" (the Message).
We now had cash tied up in stock sitting in vast warehouses that would only move from those shelves to the customer if we engaged in a significant level of activity to make it happen – activity that would with time, distract us from the vital business of co-edtioning in the global market.
We had tremendous support from our distributor – IVP into the christian market and Bounce UK into the high street book shops. They both did a great job getting us established and we so enjoyed working with them – but it wasn't enough and the two years we spent selling Pupfish books into the UK took a heavy toll on our business and worse still our family.
Jon fell ill and was unable to oversee the business. Although I was the visionary, Jon was absolutely the heart and soul of operations and made the whole thing happen. I was a 'scatter brained' creative struggling to administrate and basically fill his awesome shoes. I was failing miserably.
Despite the hope that we would pull through, it wasn't to be. There was just too much strain on the children's book market in the UK to allow any slack and we were too tired to push any harder.
As a way forward we decided to sell Pupfish to a more established publisher. This was a thrilling and nervous time, for us as publishers I have always admired grew excited about the opportunity to acquire us and gain a children's imprint. Sadly, one by one, after number reviews and negotiations – they were also unable to make the model work. They like us needed the co-edition market and most didn't have this activity in place as vigorously as required.
When it looked as if there was no way forward – Authentic Media came to our rescue. Paying a good price, they bought all of our books and began distributing them through their own networks. They also agreed to continue with my publishing program and retained Pupfish as an imprint. Perfect!
But our very personal pressures as little publishing house became very much a shared experience right across the nation and were set to affect us further. Global recession bit deep and the christian market was rocked to the core by the bankruptcy of STL – Authentic's owner at the time. Huge amounts of money were lost, 'heads rolled' and inevitable cut backs were made. This included the sale of Authentic Media and the abrupt end of our special partnership.
This also initiated the demise of the majority of Christian Book shop's across the UK, leaving only the most missional amongst them, as well as coinciding with the onset of the digital publishing revolution and the change in book buying culture. Nothing would ever be the same again.
(attached an article by Steve Mitchell which is an excellent overview of the Christian Book trade if you are interested in reading further)
2009 was the last year that I wrote, illustrated and published a Christian book.
Since that time, Jon and I have been re-building our lives. Jon has been working as a chartered civil engineer again, specialising in project management for rail (a train lovers dream). I have been working for the Bright Agency, an illustration group based in London and New York. I have been using the time to teach myself digital illustration, honing my style for the current market, as well as embracing the wonders of the modern age.
So aptly named, Pupfish has indeed faced the harshest of times and felt the heat of a hostile, desert environment. It's future is now entirely in God's hands as I have had to let it go. Pupfish was born in the desert and this thrills me as it is the opportunity for God to 'do his stuff.' Running Pupfish was an incredibly intense and bruising time for us. And we still bear the wounds. But even when our dreams appear to be lost God is loving into us the wonders of His grace and we know that death is often only the beginning.
So, when I do write again, it will be with even more passion as the desert is where God reveals His love to us and Truly, I am amazed by all that He has done for us. The story is just beginning – there is just so much more to tell you.